The Belgian Air Component F-16AM and A109BA solo displays have announced their 2019 airshow schedules this week.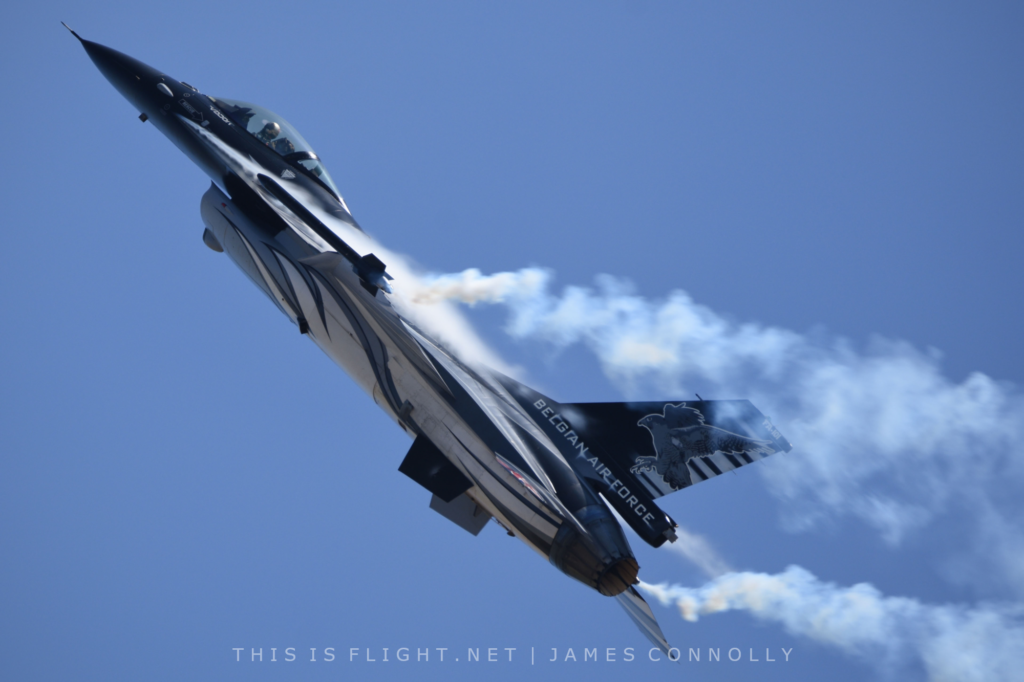 The Belgian F-16 Solo Display is one of the world's most popular fast jet demonstrations, well-known for its spectacular "Dark Falcon" paint scheme. The display is flown by Sr. Cpt. Stefan "Vador" Darte. It will perform in at least seven countries this year, with the team adding that more events could be added in the coming weeks.
The Agusta A109BA solo display has confirmed just one international show, having replaced Oostwold with the Cosford Airshow in the UK.
| | | |
| --- | --- | --- |
| Date | Show | Aircraft |
| Apr 10 | Beauvechain Open Door, Beauvechain, Belgium | A109BA |
| May 25-26 | Meeting de l'Air d'Orange, BA115 Orange – Caritat, France | F-16AM |
| May 25 | Flygdagen Sola, Stavanger, Norway | F-16AM |
| Jun 9 | RAF Cosford Airshow, Cosford, UK | A109BA |
| Jun 9-10 | Oostwold Airshow, Groningen, Netherlands | A109BA |
| Jun 14-15 | Luchmachtdagen, Volkel, Netherlands | F-16AM |
| Jun 17-22 | Salon International de l'Aéronautique et de l'Espace du Bourget, Paris, France | F-16AM |
| Jun 21-22 | Florennes Open Door, Florennes, Belgium | F-16AM, A109BA |
| Jun 29-30 | Meeting de l'Air de Cazaux, BA120 Cazaux, France | F-16AM |
| Jul 13 | Royal Navy International Air Day, RNAS Yeovilton, UK | F-16AM |
| Jul 19-21 | Royal International Air Tattoo, RAF Fairford, UK | F-16AM |
| Jul 27-28 | 100th Anniversary of the Lithuanian Air Force, Slauliai, Lithuania | F-16AM |
| Aug 24-25 | Meeting International de la Somme, Albert – Picardie, France | F-16AM |
| Aug 28 | Koksijde Open Door, Koksijde, Belgium | F-16AM, A109BA |
| Sep 7 | AirPower, Zeltweg, Austria | F-16AM |
| Sep 14-15 | Sanicole International Airshow, Hechtel, Belgium | F-16AM, A109BA |
| Oct 4-6 | Ursel Avia, Knesselare, Belgium | A109BA |