The Swiss Air Force has now released their full set of airshow schedules for 2019. We have combined them into a single schedule showing the Patrouille Suisse, PC-7 Team, Super Puma solo display and F/A-18C Hornet solo display.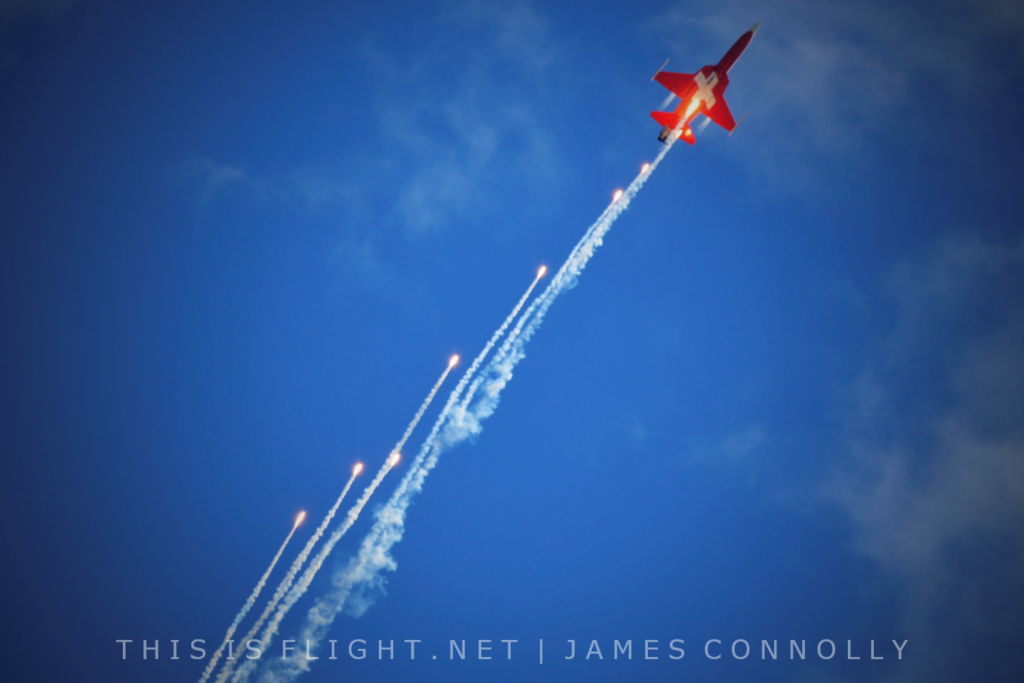 The Patrouille Suisse, flying six F-5E Tiger IIs, have a number of major international events lined up in France, the Netherlands, Austria and Belgium. Flying nine PC-7 Turbo Trainers, the PC-7 Team have three international events in the UK, Spain and Czech Republic.
The popular Swiss Hornet Solo Display has the highest number of international events. They will perform twice in the UK, as well as in France, Sweden, Italy, Austria and the Czech Republic. The display is particularly popular as the aircraft has updated avionics with no angle of attack limits, making for a particularly dramatic demonstration.
The Super Puma will perform at just two overseas events, one in Austria and one in Belgium.
| | | |
| --- | --- | --- |
| Dates | Event | Aircraft |
| Feb 21-24 | FIS Ski Weltcup, Crans-Montana, Switzerland | PC7 |
| May 11 | Heli-Laussanne, Lausanne-Blecherette, Switzerland | SP |
| May 24-25 | Tag der Öffentlichkeit, Emmen, Switzerland | PS, PC7, F18, SP |
| May 25-26 | Meeting de l'Air d'Orange, Orange-Caritat, France | F18 |
| May 26 | 115. Ob- und Nidwalder Kantonalschwingfest, Oberdorf, Switzerland | SP |
| May 29-31 | Gewerbe- und Erlebnisausstellung, Buochs Switzerland | PC7 |
| Jun 1-2 | Heliweekend, Grenchen, Switzerland | PC7, F18, SP |
| Jun 9 | RAF Cosford Airshow, Cosford, UK | F18 |
| Jun 14-15 | Luchtmachtdagen (RNLAF Open Days), Volkel, Netherlands | PS |
| Jun 21-22 | Eidgenössisches Turnfest, Aarau, Switzerland | PC-7 |
| Jun 22 | Zuger Seefest, Zug, Switzerland | PS |
| Jun 22 | Heli Challenge Switzerland 2019, Dübendorf, Switzerland | SP |
| Jun 29 | 15. Flüügerchilbi Beromünster, Switzerland | SP, PC7 |
| Jun 29-30 | Meeting de l'Air de Cazaux, Cazaux, France | PS |
| Jul 5-7 | Züri Fäscht, Zurich, Switzerland | PC7, SP |
| Jul 6 | Stars of Sound, Murten, Switzerland | PS |
| Jul 19-21 | Royal International Air Tattoo, Fairford, UK | F18 |
| Jul 19-21 | Festival Aéreo de Gijón, Gijon, Spain | PC7 |
| Jul 20-21 | Eröffnung neues Museum Altenrhein, Switzerland | SP |
| Jul 26-28 | Sunderland International Airshow, Sunderland, UK | PC7 |
| Jul 27 | Seenachtsfest, Spiez, Switzerland | PS |
| Aug 1 | Fête des Vignerons, Vevey, Switzerland | PS, F18 |
| Aug 4 | Loorholz Flugtage, Leuggern, Switzerland | SP |
| Aug 10 | Convoy to Remember, Birmenstorf, Switzerland | PS |
| Aug 16-17 | 200 Jahre Waffenplatz, Thun, Switzerland | F18 |
| Aug 16-17 | Zigermeet, Mollis, Switzerland | PS, SP |
| Aug 23-24 | Acro Show, Villeneuve, Switzerland | SP |
| Aug 24 | Fly-In Prangins 2019, La Côte, Switzerland | SP |
| Aug 24 | Fête Internationale du Sauvetage, Saint-Blaise, Switzerland | SP |
| Aug 25 | Försvarsmaktens Flygdag Blekinge flygflottilj, Rønneby, Sweden | F18 |
| Aug 30-31 | Hunterfest St. Stephen, Obersimmental, Switzerland | PC7 |
| Aug 31-Sep 1 | Meeting Aérien, Yverdon-les-Bains, Switzerland | PS, F18, SP |
| Sep 6-7 | AirPower, Zelgweg, Austria | PS, F18, SP |
| Sep 6-7 | Flüüger-Fäscht Schmerlat, Schaffhausen, Switzerland | PC7 |
| Sep 13 | Sanicole Sunset Airshow, Hechtel, Belgium | PS, SP |
| Sep 14-15 | Jesolo European Airshow, Jesolo, Italy | F18 |
| Sep 15 | Sanicole International Airshow, Hechtel, Belgium | PS, SP |
| Sep 21 | 40. Greifenseelauf, Uster, Switzerland | PS |
| Sep 21-22 | NATO Days & Czech Air Force Days, Ostrava, Czech Republic | PC7, F18 |
| Oct 5-6 | 40. Modellflugtag, Hausen am Albis, Switzerland | PC7, SP |
| Oct 9-10 | Fliegerschiessen, Axalp, Switzerland | PS, F18, SP |
| Oct 11-12 | Air & Space Days Verkehrshaus, Luzern, Switzerland | PC7 |
| Dec 11-12 | Brevetierung, Vitznau, Switzerland | PC-7 |