LAS VEGAS | The US Air Force's single-ship demonstration teams, including the F-16C Viper, F-22A Raptor, F-35A Lightning and A-10 Warthog, have announced next year's schedules.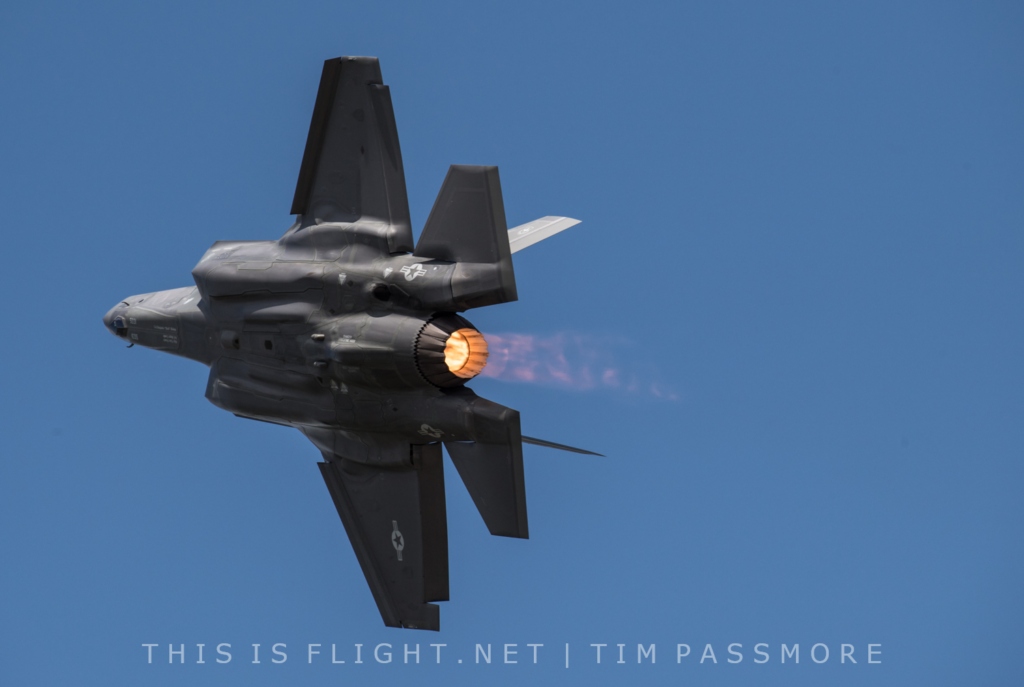 The F-35 is particularly notable as it will be the first time the type has performed full solo demonstrations in the hands of the US Air Force. The type will perform across the USA and at one show in Canada.
The USAF's other fifth-generation jet, the F-22 Raptor, will only perform in the US this year. It will perform at a large number of events, but several will be Heritage Flight displays only.
Returning for a seecond year is the A-10 Warthog Demo Team, who will perform at shows in the US, as well as two in Canada and one in Mexico. It is a notable expansion on last year's schedule.
The F-16 Viper Demo Team will perform at one Canadian airshow and the rest in the US. In May 2019 they also added the Royal International Air Tattoo in the UK.
Displays at EAA AirVenture in Oshkosh will comprise of an abbreviated mini-demonstration and a Heritage Flight performance due to the small size of the aerobatic box.
The announcements were made at the International Council of Air Shows Convention in Las Vegas.
The full schedule can be seen below.
| | | |
| --- | --- | --- |
| Dates | Event | Participating aircraft |
| Feb 17 | Stars & Stripes Airshow Spectacular, Laredo, TX, USA | A-10C |
| Mar 9-10 | Yuma Airshow, AZ, USA | A-10C |
| Mar 23-24 | Thunder & Lightning Over Arizona, Davis-Monthan, AZ, USA | F-35A (HF), A-10C, F-22A |
| Mar 30-31 | Southernmost Air Spectacular, Key West, FL, USA | F-16C, A-10C |
| Mar 30-31 | Melbourne Air & Space Show, FL USA | F-35A |
| Mar 30-31 | Thunder Over the Bay, Travis, CA, USA | F-22A, A-10C |
| Apr 2-5 | Sun 'n Fun Fly-In, Lakeland, FL, USA | F-16C |
| Apr 6 | Shaw AFB Wings Event, SC, USA (private event) | F-16C |
| Apr 6-7 | Heart of Texas Airshow, Waco, TX, USA | F-35A |
| Apr 13-14 | Wings Over South Texas, Corpus Christi, TX, USA | A-10C |
| Apr 24-27 | Feria Aeroespecial Mexico, Santa Lucia, Mexico | A-10C (Demo only) |
| Apr 27-28 | Beaufort Airshow, SC, USA | F-22A |
| Apr 27-28 | Wings Over Wayne, Seymour Johnson, NC, USA | F-35A |
| May 4 | Manassas Airshow, VA, USA | A-10C |
| May 4-5 | Planes of Fame, Chino, CA, USA | F-16C |
| May 4-5 | Fort Lauderdale Airshow, FL, USA | F-22A |
| May 10-12 | JB Andrews Airshow, MD, USA | A-10C |
| May 11-12 | Chennault International Airshow, Lake Charles, LA, USA | F-22A, F-16C |
| May 18-19 | Hangar 24 AirFest, Redlands, CA, USA | A-10C |
| May 18-19 | Barksdale Defenders of Liberty Airshow, LA, USA | F-35A |
| May 25-26 | Westmoreland County Airshow, Latrobe, PA, USA | F-16C |
| May 25-26 | Miami Beach Air & Sea Show, FL, USA | F-35A |
| May 26 | Indy 500, Indianapolis Motor Speedway, IN, USA | F-16C (HF only) |
| Jun 1-2 | Star-Spangled Salute, Tinker AFB, OK, USA | F-16C |
| Jun 6 | D-Day Celebration, Bedford, VA, USA | F-22A (HF only) |
| Jun 8-9 | Great Tennessee Airshow, Smyrna, TN, USA | F-16C |
| Jun 15-16 | Wings Over Whiteman, MO, USA | F-22A, A-10C |
| Jun 15-16 | Ocean City Airshow, MD, USA | F-16C |
| Jun 22 | Inland Northwest Skyfest, Fairchild, WA, USA | F-22A |
| Jun 22-23 | Spectacle Aérien International de Bagotville, QC, Canada | F-35A |
| Jun 29-30 | National Cherry Festival, Traverse City, MI, USA | F-22A |
| Jun 29-30 | Quad City Airshow, Davenport, IA, USA | A-10C |
| Jul 3 | Dubuque Airshow & Fireworks, IA, USA | A-10C (HF only) |
| Jul 4 | Racine Airshow, WI, UAE | F-22A (HF only) |
| Jul 4 | Tacoma Freedom Fair, WA, USA | F-16C |
| Jul 4-6 | Battle Creek Field of Flight Airshow, MI, USA | F-22A |
| Jul 4-6 | Fair St. Louis, MO, USA | F-35A |
| Jul 6 | American Freedom Festival, Goshen, IN, USA | F-22A |
| Jul 6-7 | Saskatchewan Airshow, Moose Jaw, SK, Canada | F-16C |
| Jul 6-7 | Kansas City Airshow, MO, USA | A-10C |
| Jul 12-13 | History of Flight Airshow, Geneseo, NY, USA | A-10C |
| Jul 13 | Arctic Lightning Airshow, Eielson AFB, AK, USA | F-22A |
| Jul 13-14 | Mission Over Malmstrom, Malmstrom AFB, MT, USA | F-22A< |
| Jul 13-14 | Gary Air & Water Show, IN, USA | F-16C |
| Jul 19-21 | Royal International Air Tattoo, RAF Fairford, ENG, UK | F-16C |
| Jul 20-21 | Duluth Air & Aviation Expo, MN, USA | F-35A |
| Jul 22-28 | EAA AirVenture, Oshkosh, WI, USA | F-35A, F-22A, A-10C |
| Jul 27-28 | Grand Junction Airshow, CO, USA | A-10C, F-16C |
| Jul 27-28 | Milwaukee Air & Water Show, WI, USA | F-35A, F-16C (HF), F-22A (HF), A-10C |
| Aug 3 | Rocky Mountain Air & Ground Festival, Broomfield, CO, USA | A-10C |
| Aug 3-4 | Thunder Over Michigan, Ypsilanti, MI, USA | F-16C |
| Aug 17-18 | Chicago Air & Water Show, IL, USA | F-22A, F-16C |
| Aug 17-18 | Edmonton Airshow, AB, Canada | A-10C |
| Aug 24-25 | Pocono Raceway Festival of Flight, Long Pond, PA, USA | A-10C |
| Aug 24-25 | Lancaster Airport Community Days, Lititz, PA, USA | A-10C (HF only) |
| Aug 24-25 | New York Airshow, Newburgh, NY, USA | F-35A |
| Aug 24-25 | Rochester Airshow, NY, USA | F-22A |
| Aug 31-Sep 1 | Wings Over North Georgia, Rome, GA, USA | F-16C |
| Aug 31-Sep 2 | Cleveland National Airshow, OH, USA | F-35A, A-10C |
| Sep 6-8 | AeroGatineau, Ottawa, ON, Canada | F-35A |
| Sep 7 | Northern Illinios Airshow, Waukegan, IL, USA | A-10C |
| Sep 7-8 | Spirit of St. Louis Airshow & STEM Expo, Chesterfield, MO, USA | F-22A |
| Sep 7-8 | Grissom Air & Space Expo, Grissom ARB, IN, USA | F-16C |
| Sep 13-15 | Airshow London, ON, Canada | A-10C |
| Sep 14-15 | Dover AFB Airshow, DE, USA | F-22A |
| Sep 14-15 | Owensboro Airshow, KY, USA | F-16C |
| Sep 20-22 | Oregon International Airshow, Hillsboro, OR, USA | F-35A |
| Sep 21-22 | Southern Colorado Regional Airshow, Colorado Springs, CO, USA | F-22A |
| Sep 21-22 | Osan Air Power Day, Osan AB, Republic of Korea | A-10C |
| Sep 28-29 | Wings Over Wine Country, Santa Rosa, CA, USA | A-10C |
| Sep 28-29 | Miramar Airshow, CA, USA | F-16C |
| Sep 28-29 | Robins AFB Airshow, GA, USA | F-22A |
| Oct 5-6 | Great Pacific Airshow, Huntington Beach, CA, USA | F-35A, A-10C |
| Oct 5-6 | California Capital Airshow, Sacramento, CA, USA | F-16C |
| Oct 11-13 | San Francisco Fleet Week, CA, USA | F-35A |
| Oct 12-13 | Apple Valley Airshow, CA, USA | F-16C (HF only) |
| Oct 12-13 | Central Coast AirFest, Santa maria, CA, USA | F-16C |
| Oct 18-20 | Wings Over Houston, TX, USA | F-35A |
| Oct 19-20 | Fort Worth Alliance Airshow, TX, USA | F-16C, F-22A |
| Oct 19-20 | LA County Airshow, Lancaster, CA, USA | A-10C |
| Oct 26-27 | Jacksonville Sea & Sky Spectacular, FL, USA | F-35A |
| Oct 26-27 | Sheppard AFB Airshow, Wichita Falls, TX, USA | F-22A |
| Nov 2-3 | Stuart Airshow, FL, USA | F-16C |
| Nov 2-3 | Thunder Over South Georgia, Moody AFB, GA, USA | F-22A, A-10C |
| Nov 9 | French Valley Airshow, Murrieta, CA, USA | A-10C |
| Nov 9-10 | Blue Angels Homecoming Airshow, Pensacola, FL, USA | F-16C |
| Nov 15-17 | Aviation Nation, Nellis AFB, NV, USA | F-22A, F-35A |
| Nov 16-21 | Dubai Airshow, Dubai World Central, Dubai, UAE | F-22A, F-35A |