LAS VEGAS | The Royal Canadian Air Force's two main airshow teams have announced their schedules for next year at the International Council of Air Shows Convention today.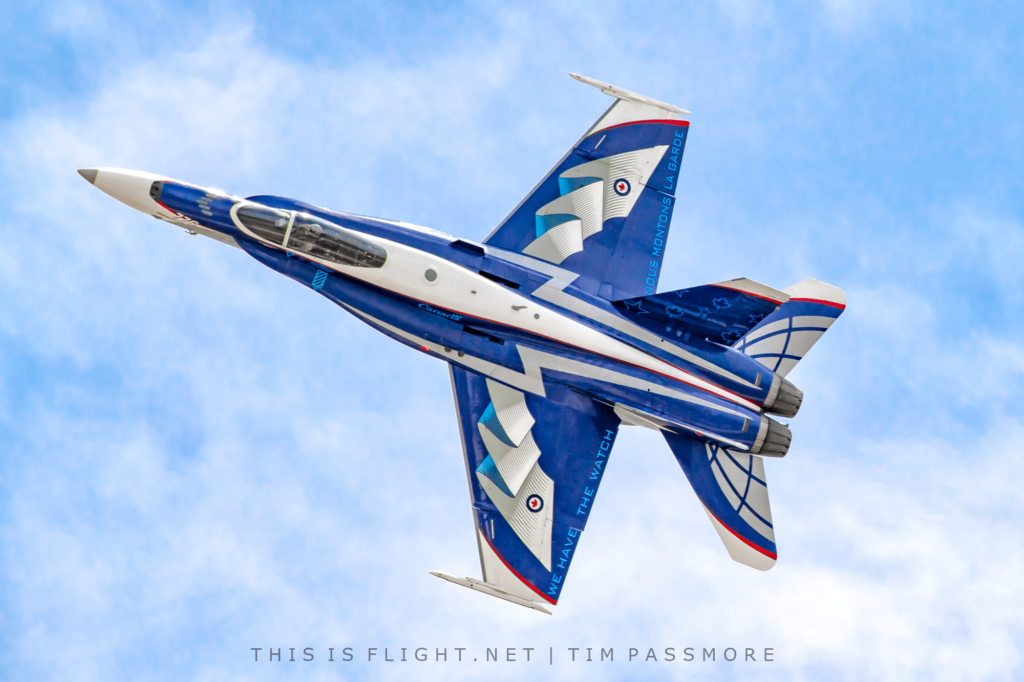 The Snowbirds, Canada's national aerobatic team, flying nine CT-114 Tutors, will display from mid-May to early October. They wills start and end their seasons in the USA, with most intervening shows in Canada.
The CF-18 Demo Team, which performs with a specially-painted CF-188A Hornet, will perform only in Canada this year. It will fly a reduced schedule due to the air force's "operational tempo". The display pilot will be Captain Brian "Humza" Kilroy.
The full schedule for the two teams can be found below.
| | | |
| --- | --- | --- |
| Dates | Event | Participating teams |
| May 18-19 | Barksdale AFB Defenders of Liberty Airshow, LA, USA | Snowbirds |
| May 25-26 | Westmoreland County Airshow, Latrobe, PA, USA | Snowbirds |
| May 29 | Winston-Salem, NC, USA | Snowbirds |
| Jun 1-2 | Longueil (Saint-Hubert), BC, Canada | Snowbirds |
| Jun 8-9 | Spectacle aérien de Val-d'Or, QC, Canada | Snowbirds, CF-18 |
| Jun 12 | North Bay Armed Forces Day, ON, Canada | Snowbirds, CF-18 |
| Jun 15-16 | OC Airshow, Ocean City, MD, USA | Snowbirds |
| Jun 19 | Miramichi Airshow, NB, Canada | Snowbirds |
| Jun 22-23 | Spectacle Aérien International de Bagotville, QC, Canada | Snowbirds, CF-18 |
| Jun 29 | Barrie Airshow, ON, Canada | Snowbirds |
| Jul 1 | Canada Day flypast, Ottawa, ON, Canada | Snowbirds, CF-18 |
| jul 6-7 | Saskatchewan Airshow, Moose Jaw, SK, Canada | Snowbirds, CF-18 |
| Jul 20 | Boundary Bay Airshow, BC, Canada | Snowbirds, CF-18 |
| Jul 24 | Fort St. John International Airshow, BC, Canada | Snowbirds |
| Jul 27-28 | Wings Over Springbank, AB, Canada | Snowbirds, CF-18 |
| Jul 31 | Peace Regional Airshow, Peace River, AB,  Canada | Snowbirds |
| Aug 3-4 | Quesnel Skyfest, BC, Canada | Snowbirds, CF-18 |
| Aug 7 | Penticon Air Display, BC, Canada | Snowbirds |
| Aug 9-11 | Abbotsford International Airshow, BC, Canada | Snowbirds, CF-18 |
| Aug 17-18 | Edmonton Airshow, AB, Canada | Snowbirds, CF-18 |
| Aug 24-25 | Spectacle Aérien de Rivière-du-Loup, QC, Canada | Snowbirds |
| Aug 28 | Brantford Charity Airshow, ON, Canada | Snowbirds, CF-18 |
| Aug 30-Sep 1 | Atlantic Canada International Airshow, Greenwood, NS, Canada | CF-18 |
| Aug 31-Sep 2 | Canadian International Airshow, Toronto, ON, Canada | Snowbirds |
| Sep 3 | Whitby Airshow, ON, Canada | Snowbirds |
| Sep 7-8 | Aero Gatineau-Ottawa, QC, Canada | Snowbirds, CF-18 |
| Sep 11 | Niagara-on-the-Lake Airshow, ON, Canada | Snowbirds |
| Sep 13-15 | Airshow London, ON, Canada | Snowbirds, CF-18 |
| Sep 21-22 | Eastern Townships Airshow, Bromont, QC, Canada | CF-18 |
| Sep 21-22 | Air Legends, Peterborough, ON, Canada | Snowbirds |
| Sep 28-29 | Wings Over Wine Country, Santa Rosa, CA, USA | Snowbirds |
| Oct 5-6 | Great Pacific Airshow, Huntington Beach, CA, USA | Snowbirds |
| Oct 12-13 | Atlanta Airshow, Hampton, GA, USA | Snowbirds |
| Oct 20-21 | Wings Over Houston Airshow, Houston, TX, USA | Snowbirds |